Fragments is an open-source BitTorrent client for Linux. It is developed for the Gnome desktop environment, following its human design guidelines. The application is modern looking and intuitive to use.
The name "Fragments" is kind of ironic as the file(s) that we transfer using BitTorrent protocol gets fragmented into little pieces.
We can install Fragments either manually or with the Flatpak.
To make things easier we are going to use the second method to install it.
installing Fragments BitTorrent client on Linux
In order to install Fragments, the system needs to have the Flatpak setup. Most of the distros come with Flatpak by default however some distributions like Ubuntu, Pop OS, Cent OS don't come with it.
For more, check out the installation guide: How to install & setup Flatpak on Ubuntu 20.04
The above guide is for all the distros, just change the package manager to the one you are using.
After that, you can use the Flatpak installation command to install the Fragments BitTorrent client.
flatpak install flathub de.haeckerfelix.Fragments
To run the application, either use the below command or simply search in the application menu and run it from there.
flatpak run de.haeckerfelix.Fragments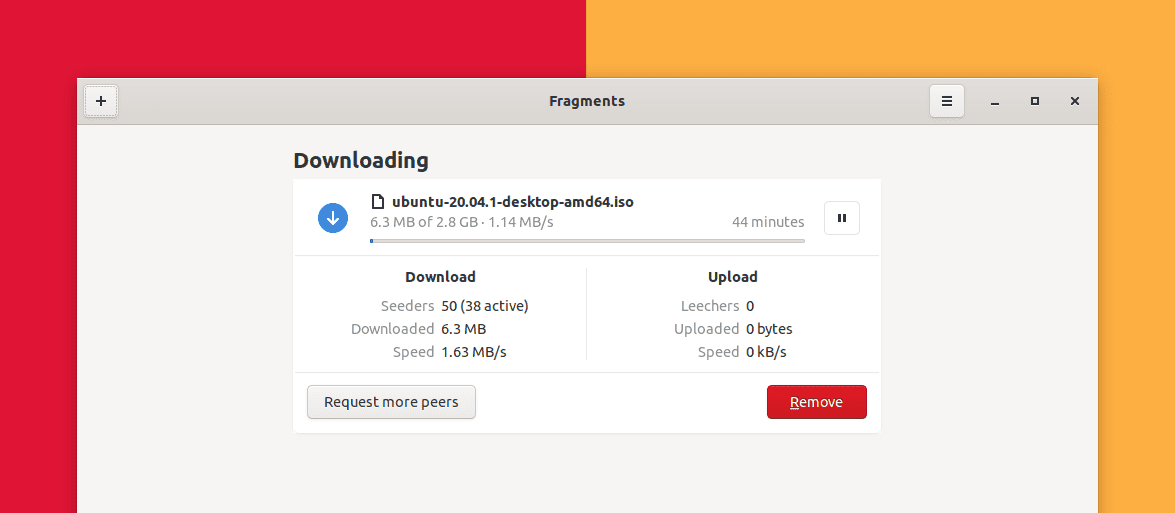 If you want to remove the application then you can use the flatpak uninstall command.
flatpak uninstall de.haeckerfelix.Fragments
Watch Video guide on YouTube
Additionally, You can also watch a step-by-step video guide on YouTube to get a better understanding of it.
Conclusion
Hope you like the Fragments BitTorrent client for Linux. Let me know what you think about it in the comments and subscribe to the LinuxH2O Youtube channel. Till then, keep enjoying Linux.
---