In this quick & easy guide, you will learn how to install and setup Dropbox in Ubuntu and other distributions.
Dropbox is one of the most popular online file hosting service providers and it's based in San Francisco, California. It offers cloud storage, file synchronization, personal cloud, and client software.
Dropbox was founded in 2007 by MIT students Drew Houston and Arash Ferdowsi and now it has a valuation of over US$10 billion.
Install Dropbox in Ubuntu and derivatives
Dropbox can easily be installed on Ubuntu or any of its derivatives such as Linux Mint, Pop OS, Zorin, Elementary OS, etc.
Installation is pretty straight forward, you just have to download the package file for your system and install it.

After downloading the file, you can either double click on it and it will open up in the Software center and then click on the install button to install it.
You can also use the command line to install the Dropbox .deb package file.
sudo apt-install ./dropbox_file_name.deb
After installing the Dropbox .deb package file, open the application menu and search for "Dropbox".

You should see a Dropbox icon, click on it to continue with the setup.

This should start downloading the Dropbox Daemon automatically.
When the daemon is downloaded, you will be taken to the Dropbox login page to authorize the synchronization. So enter your account details and click on login.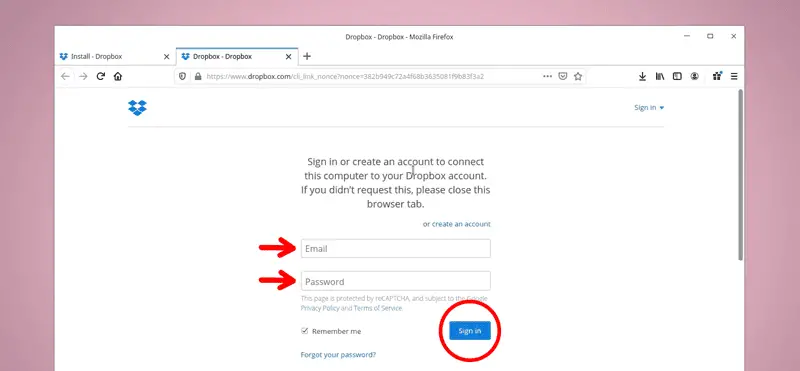 When you will complete the authentication, the Dropbox will get successfully synchronized. You will see the Dropbox icon in the bar with a tick mark on it.

Installing Dropbox on other distributions
Just like Ubuntu, the installation is the same for the other distribution as well. Dropbox provides the .rpm file so you can download that one from the above link and install it in the system.
If you need any guidance on the installation then check out this guide here: Installing applications in Linux | Complete guide
Watch Video guide on YouTube
Additionally, You can also watch a step-by-step video guide on YouTube to get a better understanding of it.
Conclusion
So this way you can install and set up Dropbox on almost any Linux distribution out there. Let me know what you think about it in the comments and subscribe to the LinuxH2O Youtube channel. Till then, keep enjoying Linux.
---