In this quick guide, you will see how to setup up and install the XP-Pen tablet and its drivers on Linux operating system. This guide is for all the distributions and it doesn't matter which one you may be using Ubuntu, Fedora, Arch, or any other for that matter.
XP-Pen company is very popular, they have a global presence and goodwill for their awesome tablets. People from many professions rely on these little technical devices, whether you do the digital drawing, designing, editing or maybe you teach, these tablets are just ideal for your workflow.
The user experience feels like you are writing on paper with a pen. The tablets come with very good levels of pressure sensitivity. The company provides support for all the operating systems (Even Linux 🤗) and it's very easy to set up which you will see later in the article. Your tablet also comes with a year of warranty and dedicated customer support for any of your needs.
You can get tablets from many series, I went with the Deco series and bought a Deco mini 7 tablet for making educational content which you will encounter on the channel soon so if you haven't subscribed to the channel yet, do it now, I promise 🤞 you won't regret it.
Now let's get into the good stuff and set up this little bad boy on your Linux distro.
Installing XP-Pen drivers on Linux
First I would like to praise for Linux kernel as it manages the hardware drivers very well so you can use your XP-Pen tab right out of the box without doing any sort of setup. Just plug and play stuff.
But the company provides you drivers with a handy tool to customize your pen tab functionality. So we will install it for that. Apart from that, the application provides you to save profiles for different applications which makes the workflow even easier to move around.
To get the correct drivers for your Linux distribution, you need to visit xp-pen.com then navigate to the download page.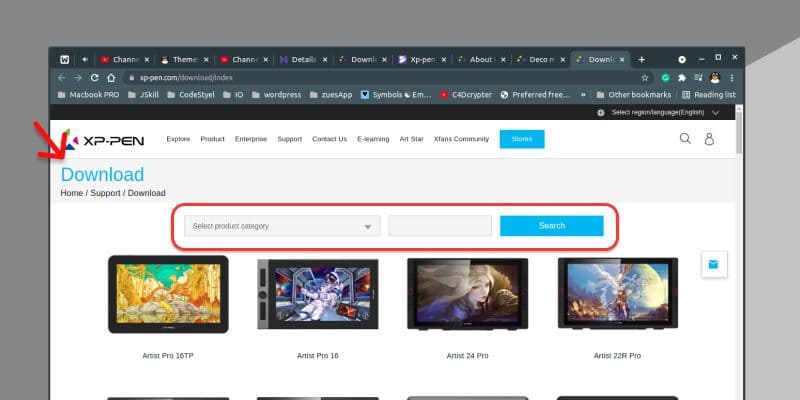 On this page, you have to locate your tablet, either go through directly or just use the category selector and search for your tablet name. Mine is Deco mini 7, so I have searched for that.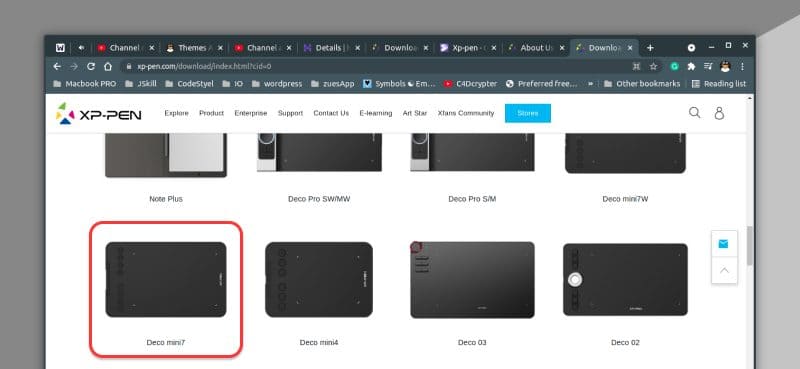 Now just click on the tablet and you will get to the driver's page. After scrolling down a bit, you will find the Linux section. Here you have to choose your Linux distributions and download the file accordingly.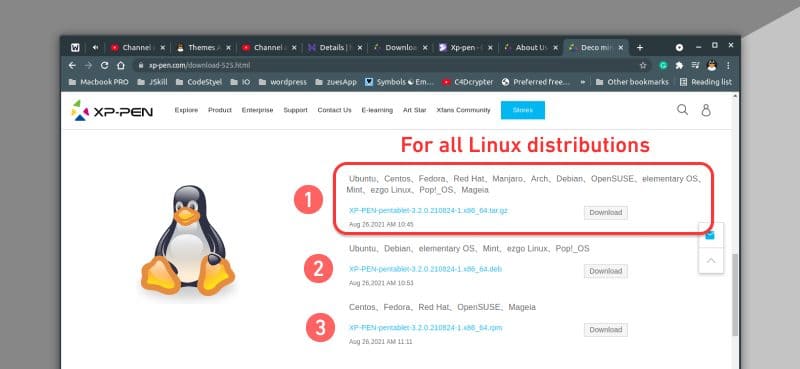 Installing XP-Pen tablet drivers on Ubuntu / Debian
Under the Linux section, you can see three different options. The second download option is for Ubuntu / Debian and their derivatives like Linux Mint, Elementary, Pop!_OS, MX, etc.
So if you are using any of these distributions then just download the .deb by clicking the download button beside. After getting the .deb file, you can easily install it.
sudo dpkg -i xp-pen-tab-file-name.deb
Installing XP-Pen tab drivers on Fedora, Red Hat & derivatives
The third option is for RPM-based distributions such as CentOS, Fedora, Red Hat, Mageia, OpenSUSE, etc. So you need to download the .rpm file by clicking the beside download button.
In order to install an rpm file, you can use the given command.
sudo dnf localinstall xp-pen-file-name.rpm
Some distributions use yum package-manger over dnf so just replace the name, rest of the command is the same.
Also read: Installing applications in Linux | Complete guide
For the rest distributions such as Arch, Mageia, Manjaro, etc
The first option for download that you see in the picture above is universal. You can download the executable file then just execute it. There is no distro-specific condition applied to it.

sudo ./install.sh
After installing the drivers using any other method, you need to restart your system. This is for drivers to get settled properly after that you can use your XP-Pen tab without any issue. When your system will boot, you should see a window popped up on your screen.
If you do not see any such window then just search "XP Pen Tab" in your applications menu and start it from there.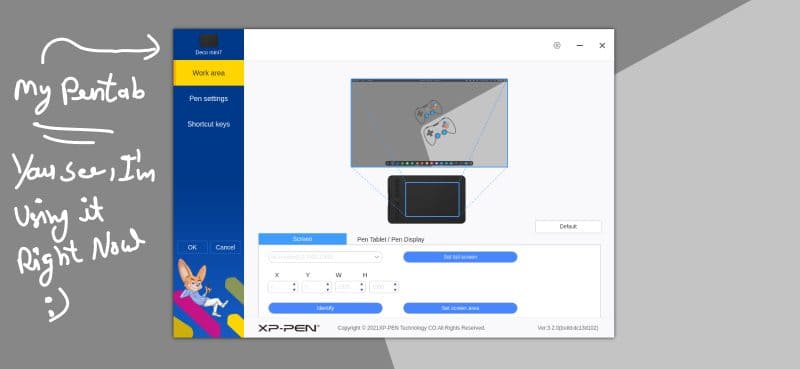 Finally, everything has been done, you just have to play around with the shortcuts setting to meet your needs. Using this application you can configure the drawing area on the tab, you can also set buttons on the pen and tab to different inputs.
This application also allows you to export/import your configurations.
For video guide, you can watch this one
Conclusion
So that was all about the XP-Pen Tablet drivers setup and configuration on any Linux operation system. I hope this article helped you out in your quest for a working pen tab on your system. Let me know what you think about it in the comments and subscribe to the LinuxH2O Youtube channel.
Till then, keep enjoying Linux.
---