Smartphones have become a very vital part of our lives. We are dependent on these little hand-held computers and spend our 1/4 of the day with them. If I say, your smartphone is your closest friend then that would not be wrong. On the other hand, where with Windows and MacOS. We get very good service of synchronizing your computer and smartphone, Linux has struggled to do something like that even when the base of both Android and Linux is literally the same. Therefore, in this guide, you will learn – How to sync your Android smartphone using Kdeconnect in Linux.
Kdeconnect is a great application for syncing your Android device with a Linux computer. Guys at KDE have done a pretty good job. The application offers a lot of extensions which can be used to increase the functionality of services.
Here is the list of the services and features you will get with Kdeconnect:
Run commands
Send message
Browse files
Notifications
Media controls
Battery monitor
Shared clipboard
Inhibit screensaver
Send & receive files
Dummy ring you phone
Remote keyboard & mouse input
The list is long and there is active development also on the project. So to sync the two devices, we need to install Kdeconnect mobile client on the Android smartphone and a computer client in your Linux.
Installing Kdeconnect in Linux & Android
The installation is very easy on Linux and mobile phone. Use the installation command to install the application in the computer.
For Ubuntu, Debian & systems using APT
sudo apt-get install kdeconnect

For Fedora & derived using DFN
sudo dfn install kdeconnect

For the Android device, you can use the Play Store to get the Kdeconnect mobile client.
Google is pretty strict with policies and recently the android client for Kdeconnect was removed from the play store. This is why below is an additional link to the application on F-Droid.
Configure the sync

After the installation, simply open the application in Linux (By searching in the application menu) and Android. Make sure both the devices are on the same network, that means on the same wi-fi network or you can connect through wi-fi tethering and USB tethering also.
If the device will be in the same network, you will see its name in the Kdeconnect when you will open it.
Note: You also have to open the Kdeconnect at in your Android mobile phone in order to start the service. You can also sync multiple devices.
Here, click on the device that you want to sync with.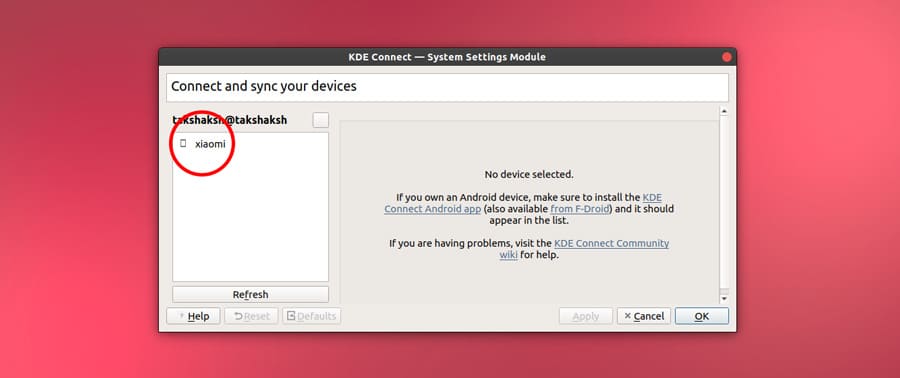 Next, you can see the available plugins or features that you can enable and disable if you want then click Request pair button.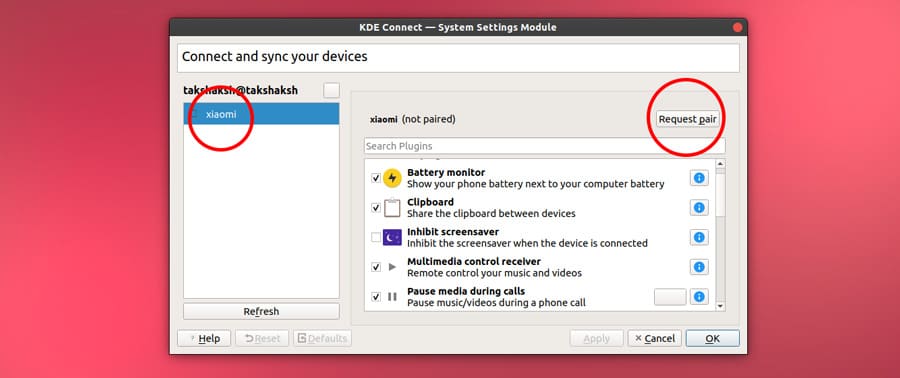 Now, a request has been initiated and you will see the loading animation in the button.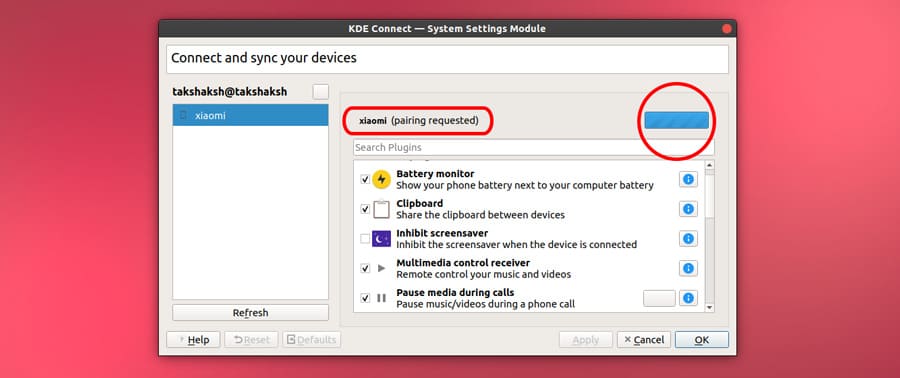 An accept and reject prompt you will see in your Android device. You need to ACCEPT it. After that, the Android device will be paired and you will see the available options.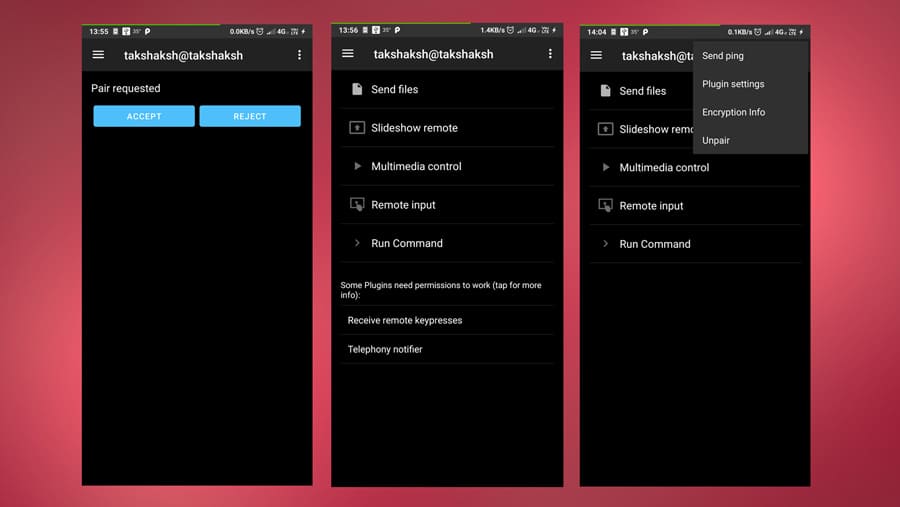 You will also see the device is paired on your computer and a green paired icon will be shown with the device name.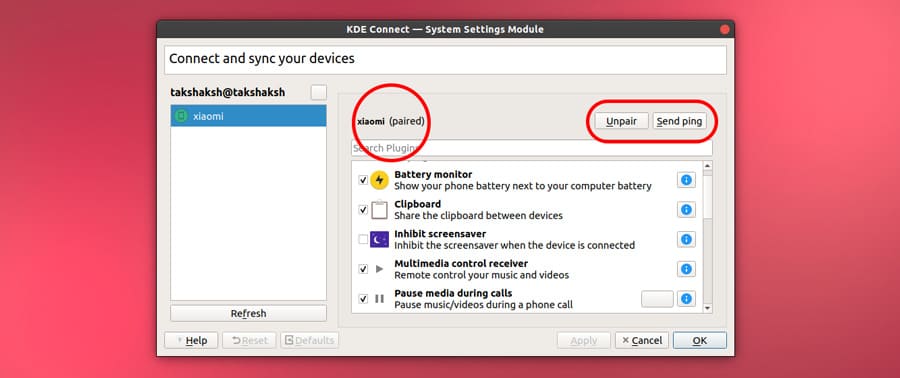 After this, an indicator will also show up at the top bar which will be used for the services and features Kdeconnect offers.

If you can not see such an icon at the top bar then open up the menu and search for Kdeconnect and click on Kdeconnect indicator. Eventually, the icon will show up.
You can also use a Gnome shell extension for an intuitive indicator. Install the below Gnome extension in your system.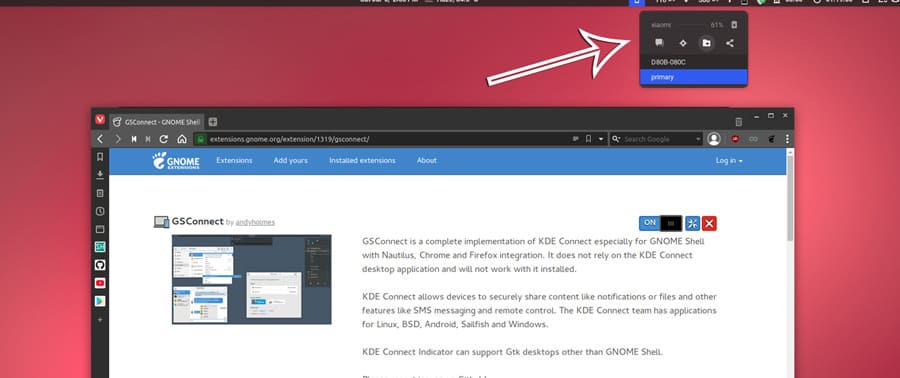 If you don't know about Gnome shell extensions. Check out this guide for details: How to install extensions in Gnome | 2019
Also, get to know about some awesome extension that you should have: Best 5 Gnome extensions you must have
Ending
So that's all on Using Kdeconnect to sync Android smartphone in Linux. Don't forget to say a few words in the comment section and I will you sooner.
There is also a Youtube channel, subscribe to that also and help the tribe.
---