Download managers are great. They make the downloading process a lot easier and faster. However, the most popular download manager is IDM which is only available to Window. That is why in this quick guide, You will learn about the fast download managers for Linux that are alternative to IDM and even better in some cases.
Having a fast download manager in your system is very essential as we tend to download files from the internet and the default downloader that we have got with the browsers. These download managers are not very efficient and do not provide any modern needed features.
Here I have compiled a list of best and fast download managers for Linux. Let's get started with the first one.
Flareget download manager for Linux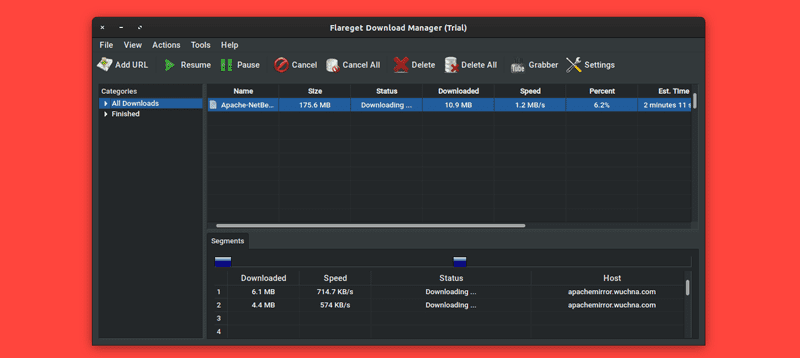 This one is very popular and might have heard of it. It is a complete rip-off of IDM. It has all the features that you love in the IDM such as:
Amazingly fast downloads!
Enhanced browser integration.
Intelligetn file management.
Resume support.
Youtube grabber.
Smart scheduler.
Batch downloads
Clipboard monitering.
Speed and downloads limits.
Dynamic file segmentation.
Multi-Protocol support (HTTP, HTTPS, FTP)
And the list goes on-n-onn.
I mean, the features are too many to cover in a single list but you have got them with Flareget.
Note: The Flareget comes with 9 days of the trail and after that you can not use some of it's features unit you upgrade to a PRO version of it.
Installing Flareget download manager on Linux
You can easily install the Flareget download manager in your favorite distros like Ubuntu, Elementary OS, Mint, Manjaro, Zorin, Fedora, CentOS, MX Linux or any other that you use.

Simply download the package file .DEB or .RPM and install it in your system.
If you need help on how to install package files on Linux then check this quick and easy guide on that: Installing applications in Linux | Complete guide
UGet – A simple minimalistic download manager for Linux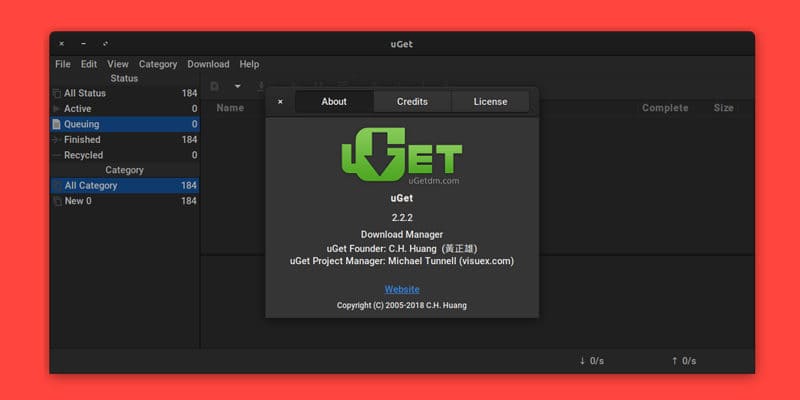 If you don't require a bunch of features and only need some essential features in your download manager for your Linux distro then UGet can be a good choice.
It has just the right amount of features and it's free, so no need to buy any license for PRO upgrade to use not required features. It comes with the just-right amount of features. Here is a list on that:
Multi-connection downloads.
Browser integration.
Download youtube videos.
Pause/Resume downloads.
Batch downloads (txt, clipboard and html)
Downloads queue management
Scheduler.
Multiple mirrors/sources.
Command-line utility (to us with the terminal)
FTP login and anonymous ftp.
Multiple protocols (HTTP, HTTPS, FTP, BitTorrent*, & Metalinks*. – * )
The list is so long, I have to stop here 😀
So now you can say, it's the ultimate Flareget without any license fees attached to it. You use Linux dear, you have got all features, there will never be a compromise on that.
Installing UGet download manager on Linux
You can download UGet's package file for your Linux distro using the link given below.
XDM – Ultimate killer download manager for Linux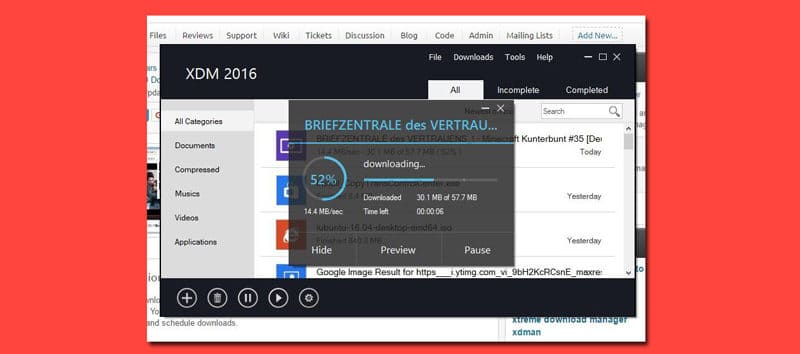 In the quest to provide you the fasted download manager, the last one is XDM (Xtreme Download Manager) and you can read what the developers are pitching about it.
Xtreme Download Manager is a powerful tool to increase download speed up to 500%, save streaming videos from YouTube, DailyMotion, Facebook, Vimeo, Google Video and 1000+ other websites, resume broken/dead downloads, schedule and convert downloads. XDM seamlessly integrates with Google Chrome, Mozilla Firefox Quantum, Opera, Vivaldi, and other Chromium and Firefox-based browsers, to take over downloads and saving streaming videos from web. XDM has a built-in video converter which lets you convert your downloaded videos to different formats so that you can watch then on your mobile or TV (100+ devices are supported).
I think the above dialogue covers everything but still, it has all the features that UGet and Flareget come with. So you can say, it's the ultimate download manager for Linux.
Get XDM package file for your distro
So it's the endgame now
That was the list for fast download manager for Linux that you can use and make your Linux experience smooth and easy. And let me know about thoughts in the comments below. Don't forget to subscribe to our YouTube channel. Till then keep enjoying Linux.
---