If you are one of those guys who really like to have the desktop look marvelous all the time. Then, the themes must be your hotshot weapon for this. Themes make boring looking screens way more appealing. I mean, when people get to see my computer they can only jealous and nothing more. Therefore, In this quick walkthrough, You will see the new amazing themes for Linux users.
You may have thought, What? only 5 Themes. The list is very short. To that, my argument is that I know there are hundreds of themes available on gnome-looks.org. Unfortunately, 95 percent of them are not maintained regularly and do not style everything properly. A lot of them are forked themes, just because someone thought if color is changed then it's a new-new theme.
Design is a very subjective matter. You may like funky colors or may find material design dull. This is completely dependent on your taste. Any the way, Here are some of the Best 5 amazing themes for Linux users.
5. Adapta Theme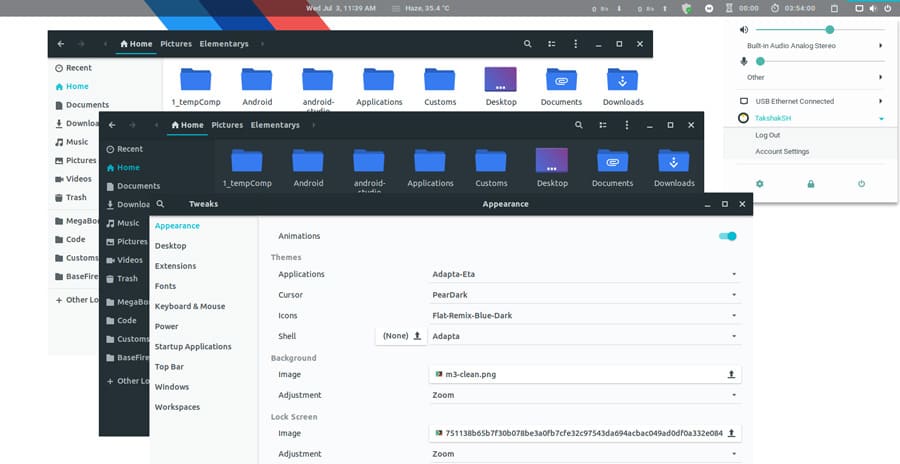 Adapta is by far one of the most popular themes available for Linux users. Its design resembles material design (Design guidelines developed by Google). It styles the whole desktop and makes it look amazing.
Adapta comes with two variant:
– Adapta – The light version of the theme.
– Adapta-Nokto – Dark version of the Theme.
Both versions style everything completely. Unfortunately, there is no update made to the theme recently. Still, it works very well. You can install Adapta by below means:
sudo apt-add-repository ppa:tista/adapta -y

sudo apt install adapta-gtk-theme

4. Sweet The Amazing Theme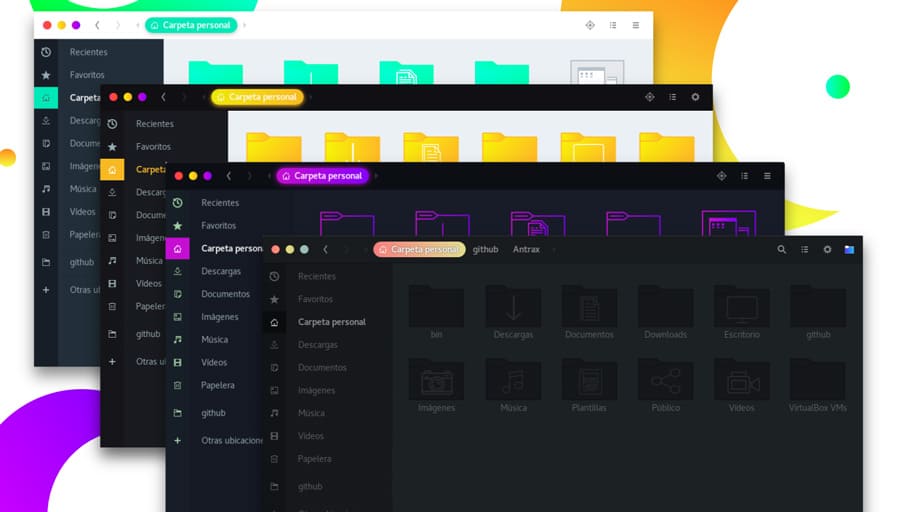 The sweet theme is sweet in its looks as well. This gradient inspired theme looks stunning on the desktop. It has gradient highlighting which makes it very unique in nature.
As you may know, Gradients are on trend since the last year. The theme was introduced around a year back and it has a rating of 8 out of 10 on gnome-look.org. Luckily, The development is very active and the theme was updated 2 days back at the time of writing this article. It gets around 3 to 5 hundred downloads daily.
The sweet theme comes with many gradient color combinations. It also has light and dark modes. You can download it by below mean(s):
3. Ant Theme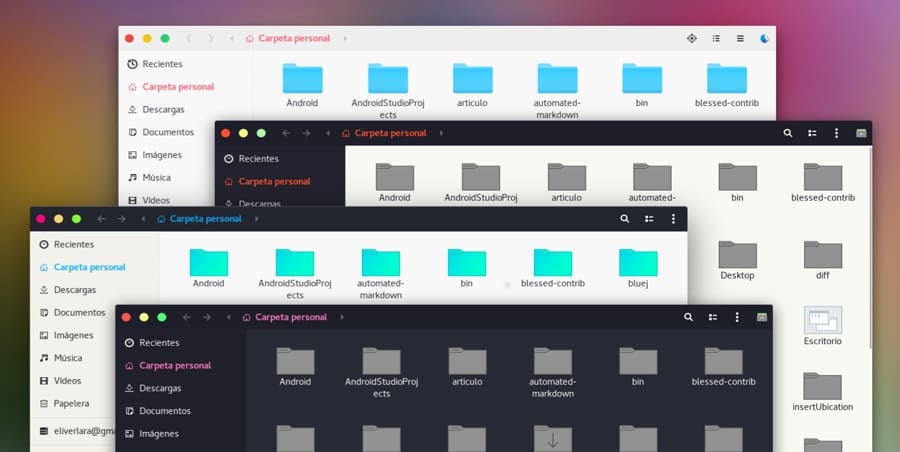 Ant theme is a flat and light theme which makes your desktop look modern. This theme also comes with many options to choose from:

– Ant – The regular light theme.
– Ant_Dracula – Darker in looks, a perfect switch for night
– Ant_Nebula – It's bluish and light
– Ant_Bloody – Raddish in nature
Ant is one of the best themes as it has a lot of variety. It has an 8/10 rating on gnome-look.org, also getting 7-9 hundred daily downloads. You can have it with the below link:
2. Flat Remix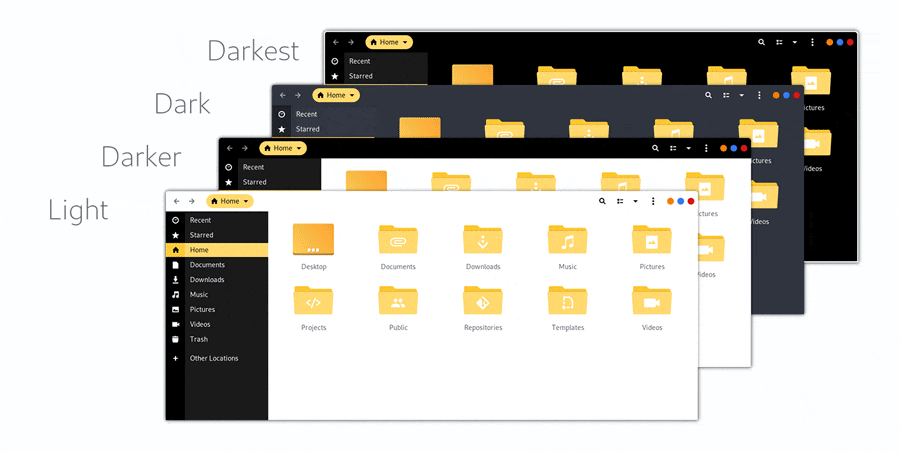 The flat remix is a pretty theme inspired by material design. It follows the modern design using flat colors with contrasts and sharp borders. I mean, that's what the designer said, and he is damn right.
Flat remix supports all the major desktop environments. The theme is designed beautifully and it showing up when you switch your theme to Flat remix. Especially, the Miami version of it. And not just Miami, there are many other options are available to choose from.
Flat also has icons pack by the same name, which is amazing again. The themes and icons are periodically updated. Download it using the author website.
1. McMojave Theme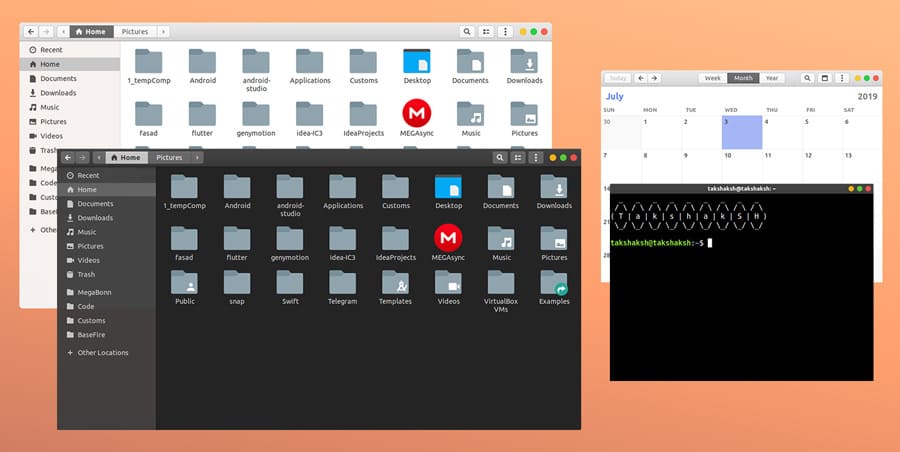 Mojave is Mac OSX like theme for Linux. It is GTK2/3 and Gnome-Shell based, supporting a wide range of desktop environments such as Gnome, Pantheon (Love at first sight!), XFCE, Mate, etc. It also has light and dark versions.
The reason behind, why it is so popular and well designed? This is because it is based on the Arc GTK theme and the guys have done a pretty great job there.
The only pointing thing is the Apple logo that you get with the theme by default but you can always replace it with your own favorite by navigating to theme folder>gnome-shell>assets>activities.svg, here just replace activities.svg file to anything that you want to get displayed on the left-right corner. Also, try to keep the picture size 24px/24px.
Download the theme from the below link:
0. Final Words
So this was the list of new and amazing themes for Linux Users. Hopefully, you liked it. For your kind information, I have not included the legendary theme in the list as they are pretty much understood. Themes such as – Numix, Arc, etc.
Also check out the icon packs: Best Icon packs for Linux users.
Let me know what you think about this list in the comment section below and do subscribe to the Youtube channel.
---