In this guide, you will learn about Slack and how to install it on Linux easily.
As the number of people grew in any company, organization or community a need for communication medium arises requiring a place where everyone can talk to anyone at any point in time and share the valuable stuff.
This is where the Slack hops in, solving this giant problem. It's a cloud-based instant messaging application or I should say a platform now, developed by Slack Technologies.
Features of Slack
Organized chat rooms
Private groups
Direct messaging
Content sharing (any file)
Search option
Emoji buttons for instant reactions to messages
It allows members to join the team or community using a specific Slack URL or via an invitation, replacing the old fashioned emails.
Slack being a platform integrates with hundreds of third-party services. Additionally, it has an API for custom applications & process automation. The application is for all the major platforms like Linux, Windows, macOS, Android, iOS, and web.
As Slack is being developed for organization communication, the business model is pretty straight forward. For free you get limited features and a limit on the messages that you can view (10,000 recent messages only). On upgrading, you get group calls, screen sharing, unlimited 3rd party apps, better search, all messages access, etc.
Installing Slack on Linux
Installing Slack on Linux is pretty easy, just visit the official link and download the .rpm or .deb package for your Linux distro and install it in your system.
For Debian, Ubuntu & derived using APT
sudo dpkg -i slackfile.deb

For Fedora & derived using DFN
sudo dfn localinstall slackfile.rpm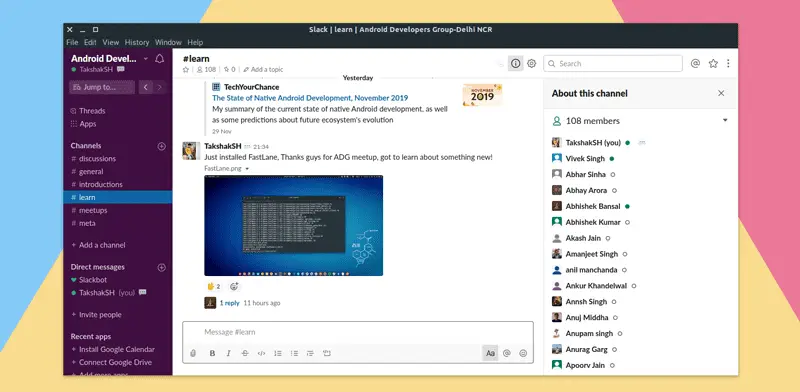 Alternatively, You can also install it from the snap app store:
Learn more about how to install .deb or .rpm files on Linux: Installing applications in Linux | Complete guide
Conclusion
So that brings to the end of this post, let me if there is any other better option available than Slack or if you run into any problem while installing Slack in the comment section below.
Do subscribe to the Youtube channel for video guides and read through some more quick tips & tricks about Linux, here on the site.
---