Tor browser is a free and open-source anonymous communication tool. It usages the Tor volunteer overlay network to direct your internet traffic through various locations while applying many layers of encryption, virtually making you a complete ghost on the internet.
TOR is very popular among privacy concern individuals as it helps them to defend tracking, surveillance, and censorship.
For beginners, Tor can be tricky to install and set up which is why in this article, you will how to install the Tor browser in your favorite Linux distribution.
Note: Because of its anonymous nature and almost impossible to break security features, the Tor browser has been banned in many countries. Please make sure it is legal to use in your country before following along with this article.
Installing Tor Browser on Linux distributions
There are many ways to install Tor but the easiest one is using the torbrowser-launcher utility. It is available in most of the official repositories so a simple installation command using the package manager of your distribution will install it..
For Ubuntu, Debian, Mint, Elementary
sudo apt-get install torbrowser-launcher
Fedora, CentOS, Oracle, Scientific & RHEL
sudo dnf install torbrowser-launcher
Arch, Manjaro & derivatives
sudo pacman -S torbrowser-launcher
In case you are not able to install "torbrowser-launcher" using the above command then you can manually download the package file install it in your distribution.
torbrowser-launcher package file
You may need some help on how to manually install packages on Linux, check out this guide: Installing applications in Linux | Complete guide
Configuring Tor browser with torbrowser-launcher
After installing the "torbrowser-launcher" you can start the tool so that it can download the latest Tor browser and set it up in your distribution.
torbrowser-launcher
You can also search for it in the application menu.

On opening it for the first time, it will automatically start to download the latest Tor browser. When it finishes, you will see the Tor connection window. Simply click on the "Connect" button.

Now it will setup the connection with the Tor network and start the Tor browser.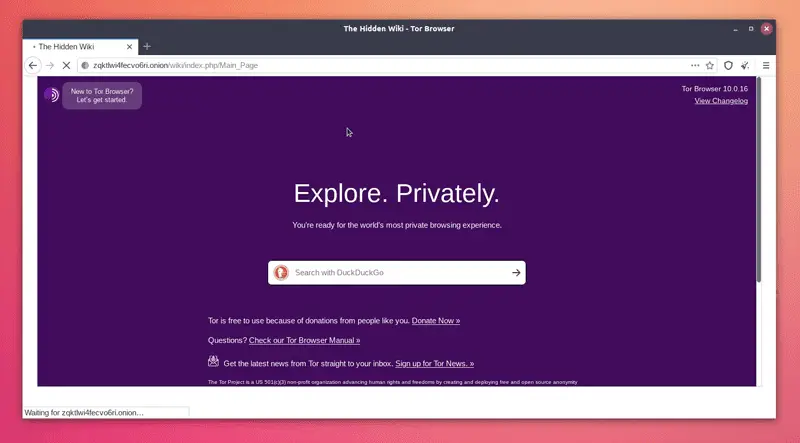 Note: With Tor browser, you can also browse ".onion" websites, commonly known as Deep web / Dark web. Here are some of such websites.
So this is how you can easily install Tor browser in your Linux distribution. Let me know what you think about it in the comments below and subscribe to LinuxH2O's Youtube channel. Till then, keep enjoying Linux.
---